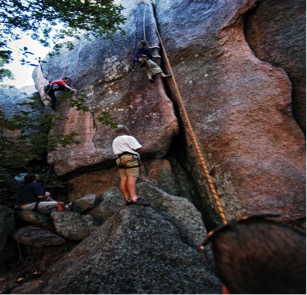 $145.00 per person minimum of 3 up to 6 clients. Private courses available.
After you have learned the basics, getting to the next level is all about moving more efficiently on rock. Your guide will evaluate your technique and pinpoint your strengths and challenges to teach you the skills to become a better climber. Whether it is face, crack or off width climbing we can help you move to the next level. Climbers will improve foot work, crack climbing, slab climbing and more. We will try new things and break bad habits so you will improve as a climber.
Prerequisites – Have your own helmet, harness, climbing shoes, belay device and know how to fit and use each of these items, know belay commands, how to belay, and basic knots. This will help us move forward to make you a better climber overall.
Refund Policy: When you book your trip please note the refund policy:
Up to 1 month (30 days) you will receive a full refund minus any credit card charges which can be up to 3%
After 1 month or 30  days up to 2 weeks before your trip date a 50% of the amount is refunded.
After 2 weeks or 15 days before your trip there will be NO refund and funds are forfeited